Last week I was able to go into my classroom for the first time! It was so exciting, but so so so much work. I spent 3 whole days there last week, and it looks like I did nothing. This week I began new teacher orientation that lasts the rest of the week and is all day long. There isn't much time to spend in my classroom this week because of it. So, I have been trying to make use of my time in the evenings by making things for my classroom. It's so much work, but I know it will all get done eventually. The kids start September 3rd, so I still have some time.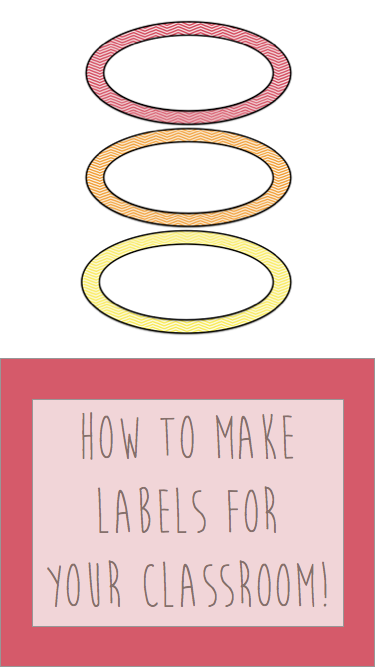 What are my label options?
One of the things I knew I needed for my room is labels for things, lot and lots of labels. I searched online and in stores for some cheap labels, but everything was pretty pricey, so I decided to do some experimenting on my own in Microsoft Word. There are tons of programs out there to make labels, I'm sure PowerPoint would have worked well too. I just picked Word because I am the most comfortable with it right now, and I was trying to be the most efficient with my time. Whatever you decide to use, make sure you can insert an image into a shape.
How to make labels for your classroom
The first thing you need to do is decide if you want to insert an image or simply use colors. If you want to use an image, you need to first find the image you want to use. I searched though Pintrest for some free chevron patterns and downloaded those. Next, open a blank word document, then insert a shape. I chose to use ovals for these particular labels. Once the shape is the size you want, click on the "fill" drop down arrow and click "fill effects". This should open a new window with lots of options. On the left side of the screen, the first option should be "fill", click that and then click the top option of "Picture or Texture". From there you will need to upload the picture you want to use. This will fill the shape with the pattern. Finally, insert another shape that's smaller on top of the first shape and leave it white, this will be a space for the label name. From there you can either insert text, or print it out and hand write the label.
I haven't decided yet if I am going to insert text onto my labels or hand write them. I plan to wait until I am closer to finishing my classroom to decide this. I am considering printing the labels, laminating them, and then writing the labels with Expo marker so I can change them year after year. I'll be sure to update when I finish my classroom 🙂 Have you ever made labels before, how did you make them?