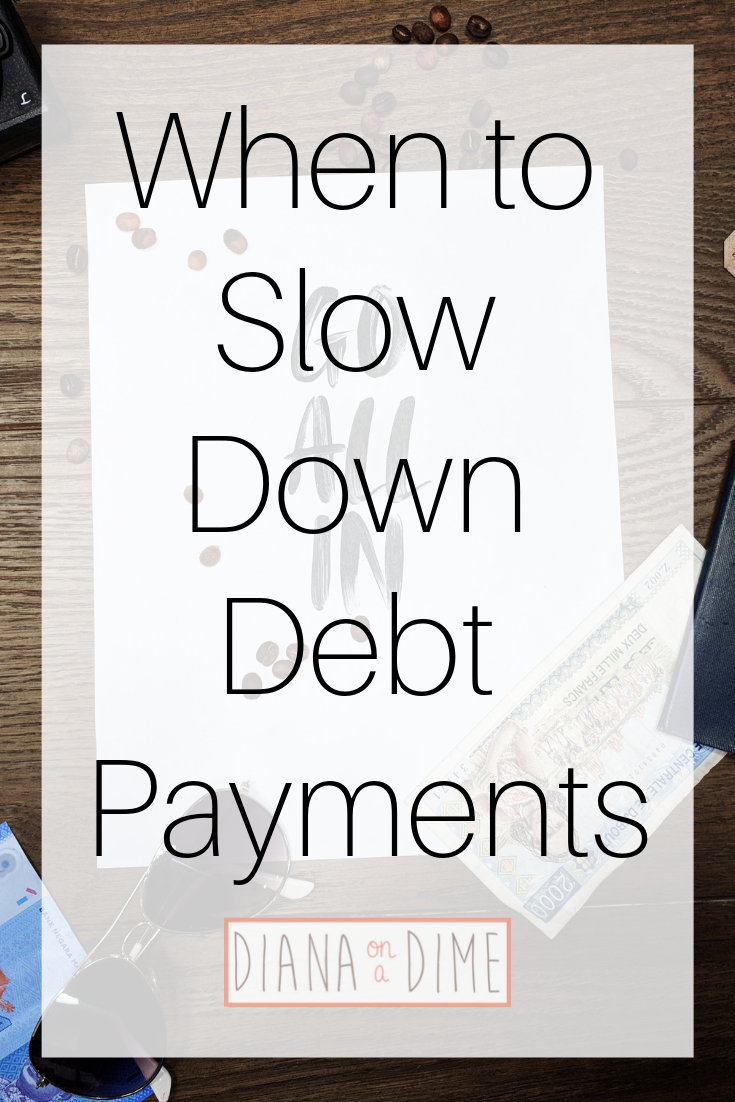 When to Slow Down Debt Payments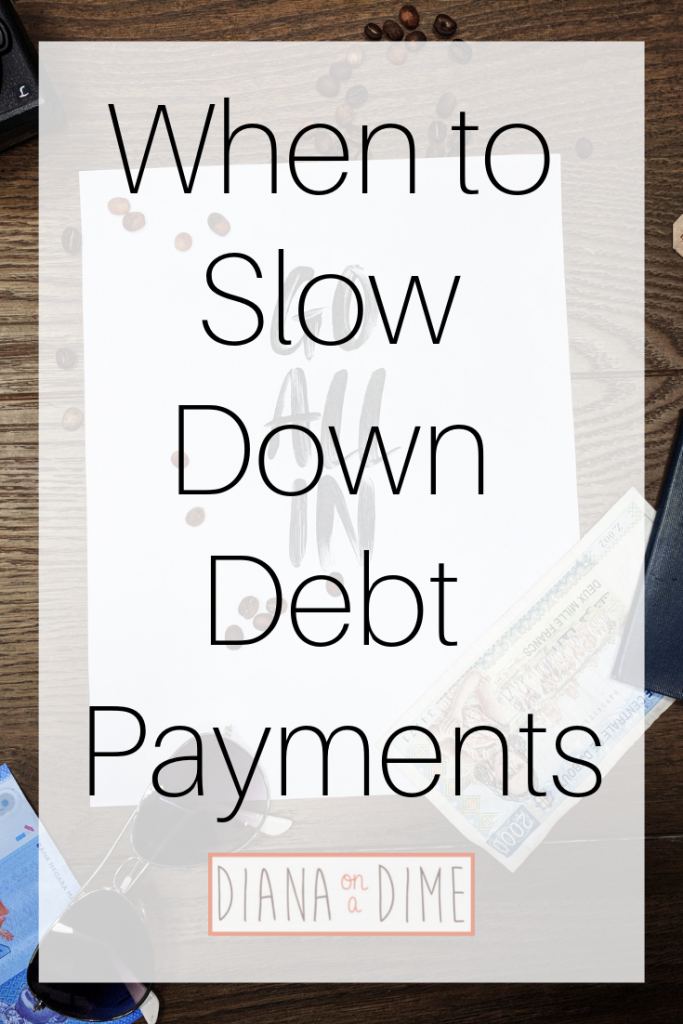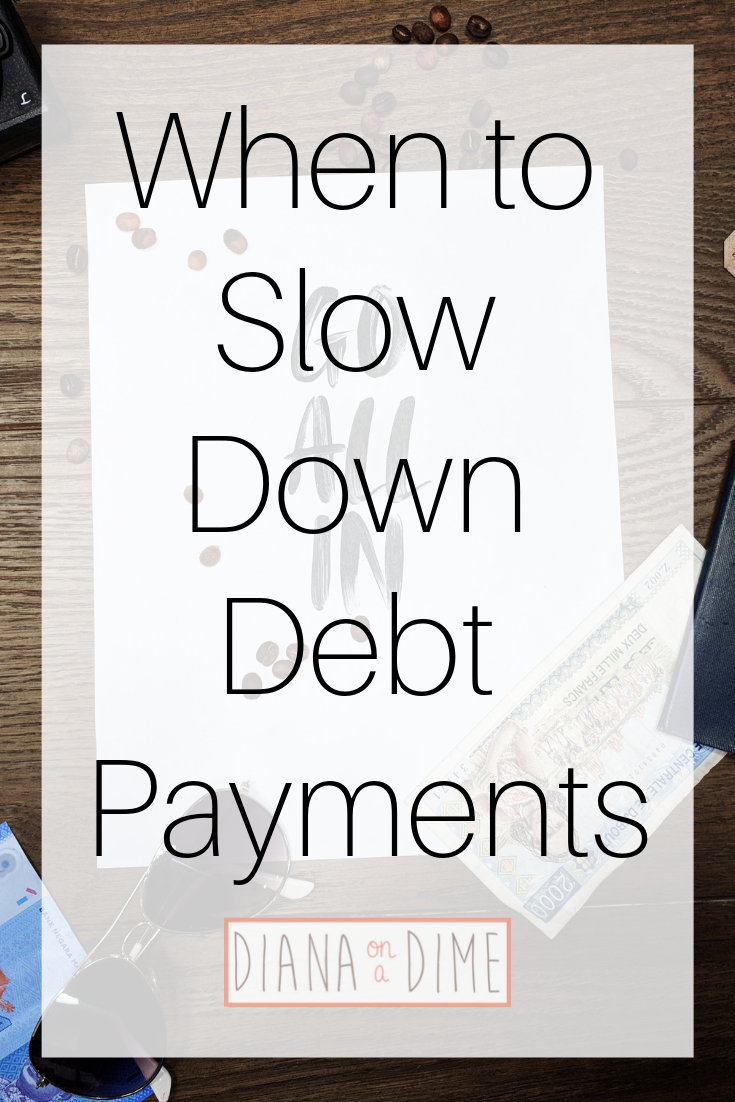 When you're paying off debt it can be difficult to slow down the process. I know for myself, I am so focused on paying off my debt that I sometimes need to be brought back to reality. It's important to remember that a debt free journey is part of a bigger plan.
For myself, my bigger plan is to be able to live a life I love without having to think about money. But that also means that sometimes I need to not focus so heavily on my debt free journey and think about the reality of life. When you're so focused on paying off your debt and the life you will live after your debt is gone, this can be difficult.
Sometimes, it's important to slow down or stop extra debt payments all together. It depends on your life and what your goals are, but sometimes it needs to happen for what makes sense in the long term.
1. Unexpected life events would require you stopping extra debt payments.
This can be a long list and really depends on what your income is. But, any unexpected events, like job loss, or medical issues, could mean slowing down or stopping extra debt payments all together. If you're single, this would definitely require you to stop making extra debt payments. But, if you have another income to rely on, it's possible that this wouldn't be the case.
My suggestion for any unexpected life events, is to stop extra debt payments and hoard any extra money. The reason this is important is because there is so much unknown in these events, for example, the recent government shutdown. Anyone who experienced the shutdown knows that the end is unknown. This means that you don't know when you will be paid.
This is why it is important to stack any money you have coming in, even if you have a bit extra at any given time to throw at debt. That extra money will be there once you get through this unexpected event. Once things have settled down, then you can assess your finances and make an extra debt payment.
2. Any unknowns in the future could slow down your debt payments.
If you're unsure about things in the future, you may want to consider slowing down or stopping your debt payments. This could be something like your job security being unknown, you may want to stop making payments or at least slow down.
This could also be something that you're planning to do. For example, I am right now unsure of where I'll be working and am planning to move this year. So, I am not stopping my extra debt payments, but I am slowing it down to put more money into my emergency fund to plan for it. This way I will have extra money to cover the unknowns of the second half of this year. Once things get settled for me, I can assess my finances and make an extra debt payment.
It is more important to plan for these unknowns when you know they are coming, then to simply hope things go according to plan. Hopefully the money you save up won't be needed, but in the event that it is needed, it will be nice to have.
3. Needing to cash flow necessary expenses.
Life happens and sometimes you need to purchase things that wasn't planned for, think car or house problems. It is better to slow down or stop debt payments to cash flow the purchase, then to go into more debt to purchase something. It's pretty counter productive to being sending extra money to debt, but going into debt at the same time.
One way to avoid this is to cash flow the expense, meaning you send all extra money until you have the cash saved up for the purchase. If it is an expense that won't be needed for a while, you can also start a sinking fund for it.
Everyone is different and decides what is considered a necessary expense, but it's important not to go into debt for these things, if it can be avoided.
Keep in mind your long term goals when planning your debt free journey
Everyone wants to get out of debt quickly, but life happens and sometimes our plans don't work out. It's important to remember what you have planned for the long term, then to make extra debt payments. Sometimes, it makes much more sense to slow down or stop extra debt payments to get through a specific situation life has thrown at you. Just remind yourself of your long term goals in these situations. Have you had to stop or slow down extra debt payments?
Diana Farmen
I'm Diana, a 20-something teacher with a passion to help millenials reach their financial goals by saving money, making money, paying off debt, and building wealth.