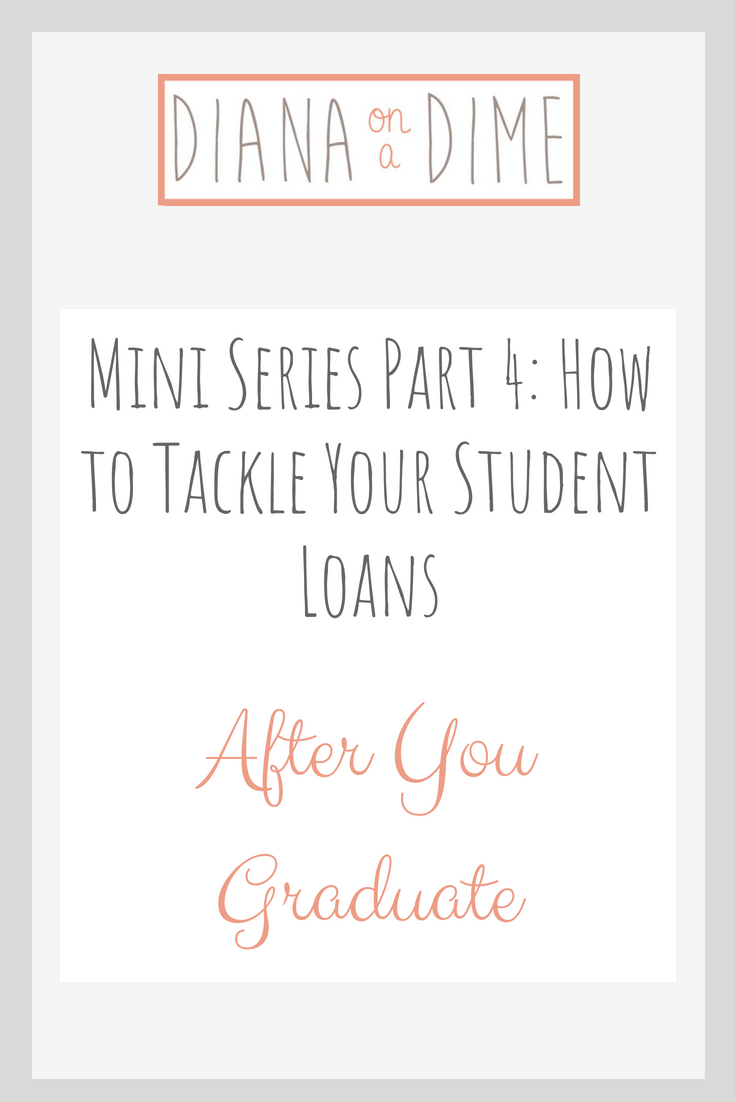 Mini Series Part 4: How to Tackle Your Student Loans
This post may contain affiliate links. Check out my Disclosure Policy for more information.
In this four part mini series you will find all the tips to tackle your student loans regardless of where you are in the process. Student loans affect almost everyone now, which is a very sad reality. From the time a person graduates high school, it's usually an issue in their life. So, I'm starting this mini series with tips for before you go to college and ending it with tips for after you graduate and have entered repayment.
Mini Series Part 1: Before You Go to College
Mini Series Part 2: While You're in School
Mini Series Part 3: Before You Graduate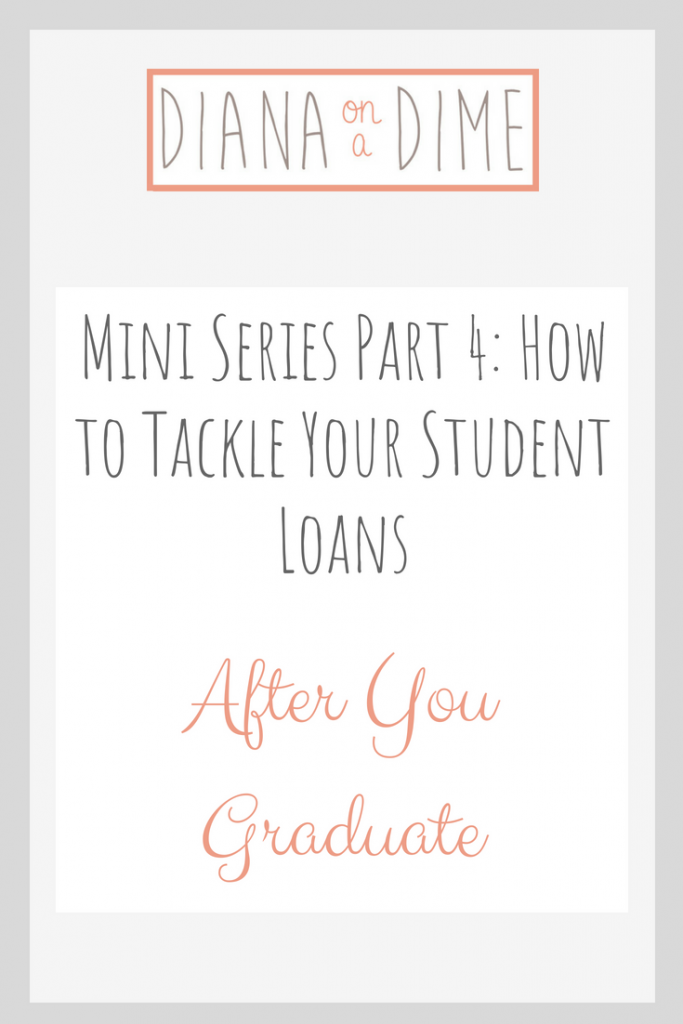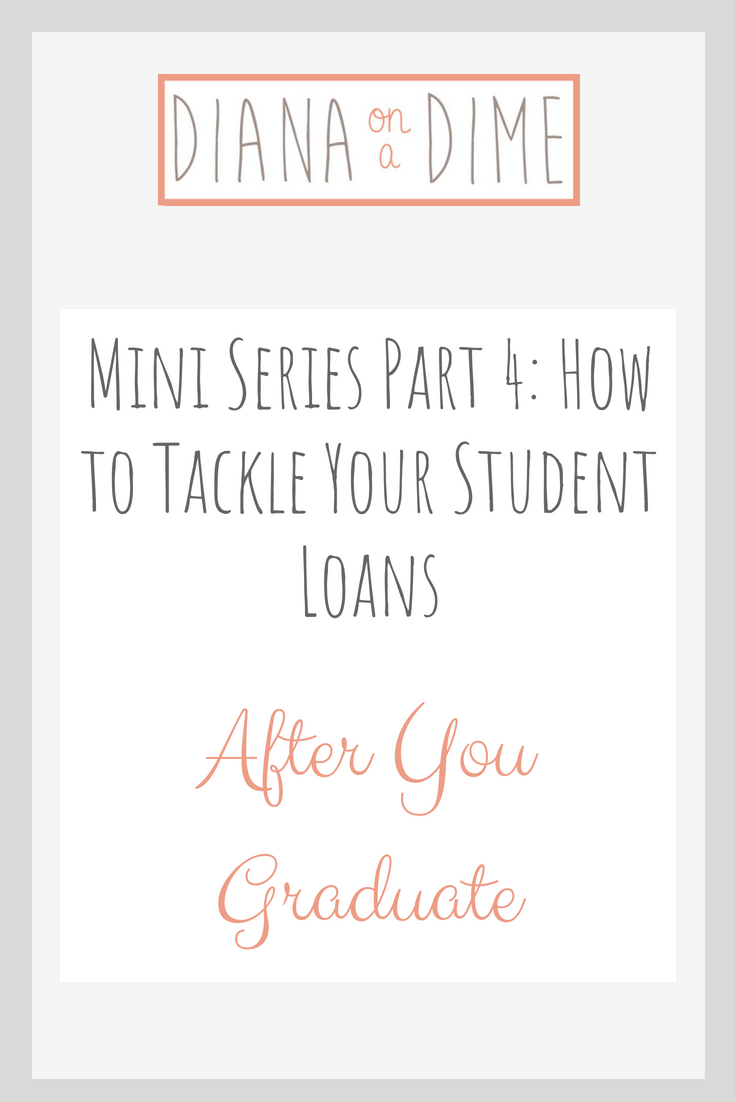 You've crossed the stage, you've started in your very first job, and you live in your very first apartment. Everything is falling into place, like it is supposed to after graduation. Now you need to start getting serious about where all of this new money is going that you now have and how you're going to go about your student loans based on the work you put in for them before you graduated.
Finalize that budget that you drafted before you graduated.
Before you graduated you drafted a budget based on what you thought your income would be and your expenses. Well, now it is time to finalize it. You should know by now how much you will be making monthly, how much your expenses will be, and how much your student loan minimum will be each month. Once you know for sure where your money is going each month, then you can see where you can cut things out. For example, I realized I was spending about $250 each month on eating out when I first tracked my spending. That was a huge reality check for me. This is going to take some time and don't think you're going to have your budget set right away. Take the time to make it work for you and don't rush the process.
2. Save a small emergency fund.
This needs to be a personal choice for you and what you are comfortable with having in case something comes up. I personally have about a month of expenses in a savings account I don't touch, unless an emergency comes up that I need to use it for. An emergency would be something you can't plan for, like your car dying. It's not meant for regular budgeted items, like clothes or food. If you want to go shopping or eat out, put it in your budget!
3. Create a payoff plan for your student loans.
Creating a payoff plan for your student loans is super important to getting them gone ASAP. Without a plan, you won't know what to prioritize or what you need to do. I personally use undebt.it to plan my debt payoff. It's wonderful, and allows you to pick what strategy you want to use. It even tells you how each plan will change your debt free date. The things you will need to do this is to have your individual account details (amount, interest rate, minimum, etc.), and know how much extra you can put towards your debt realistically based on your budget.
4. Adjust as life changes.
The most important part of a budget is to constantly adjust it as your life and priorities change. Your budget should change as your life changes. This allows you to be in control of your money versus your money being in control of you. In the beginning, it definitely feels like your money controls you because you're probably sending a lot of money to your lenders. I know for me, most of my income went to my debt minimums when I first graduated and it was hard. But, I knew as I paid off more, the control would come back to me.
As you continue post grad, it will get easier as you get more comfortable with the process. No matter your circumstances after graduation, there are options to make things easier for you financially. There is never a one size fits all when it comes to finances and ultimately you need to make your decisions personal. With that being said, if you have any questions about getting your budget together or creating a plan to pay off debt, feel free to email me with any and all questions! How did you tackle your student loans after graduation?
Diana Farmen
I'm Diana, a 20-something teacher with a passion to help millenials reach their financial goals by saving money, making money, paying off debt, and building wealth.