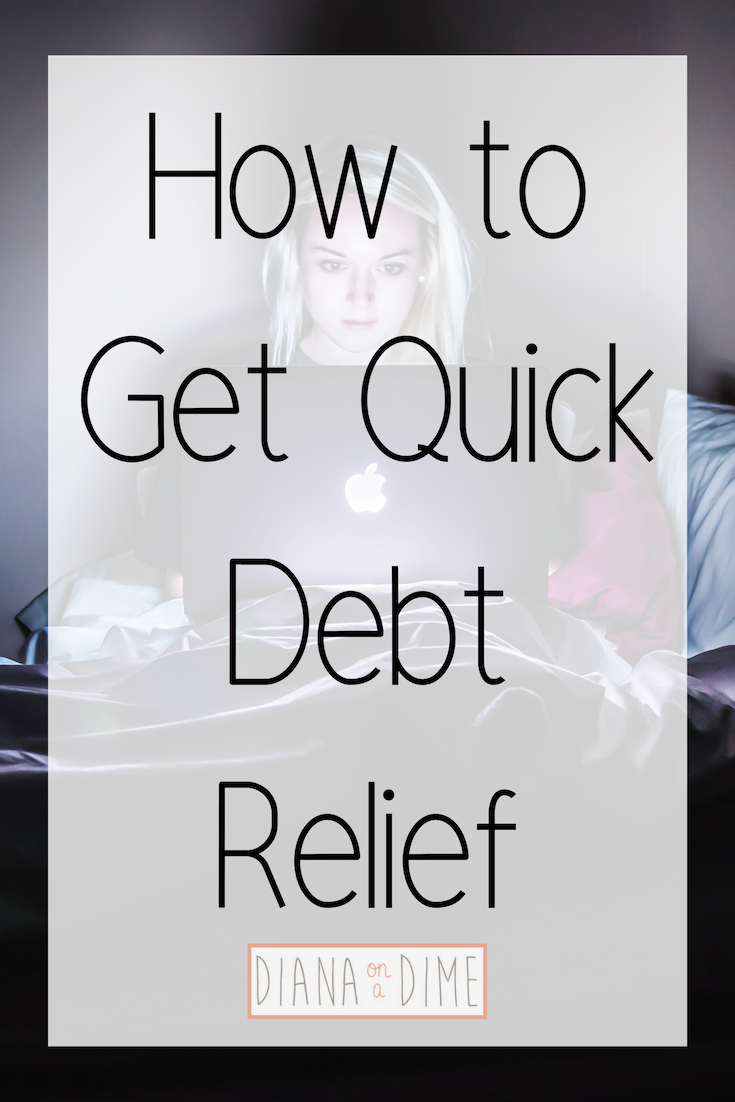 How to Get Quick Debt Relief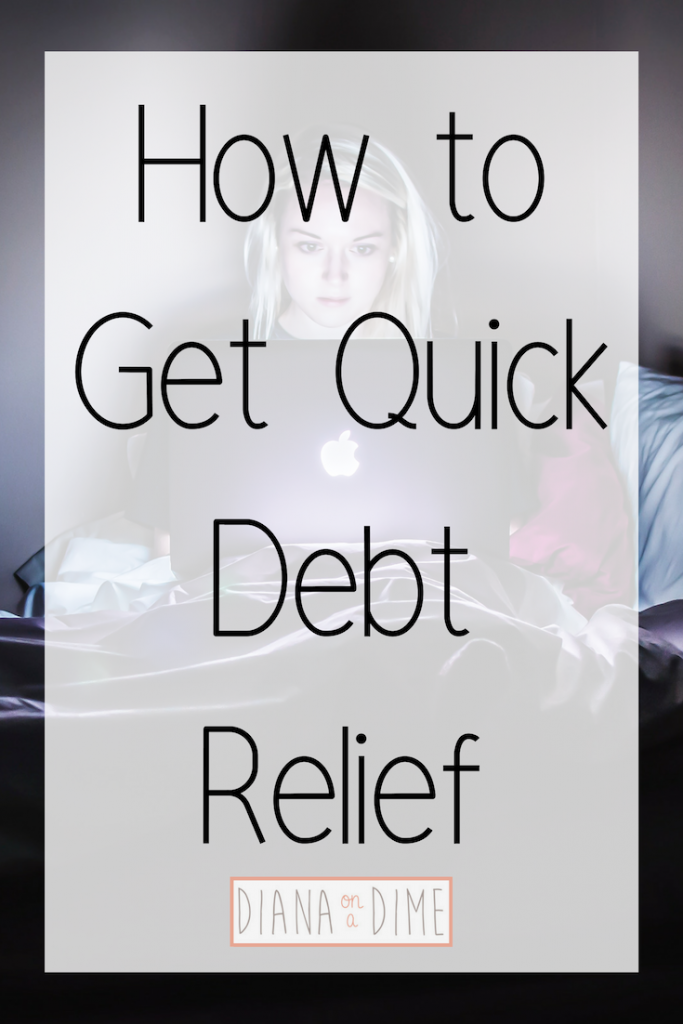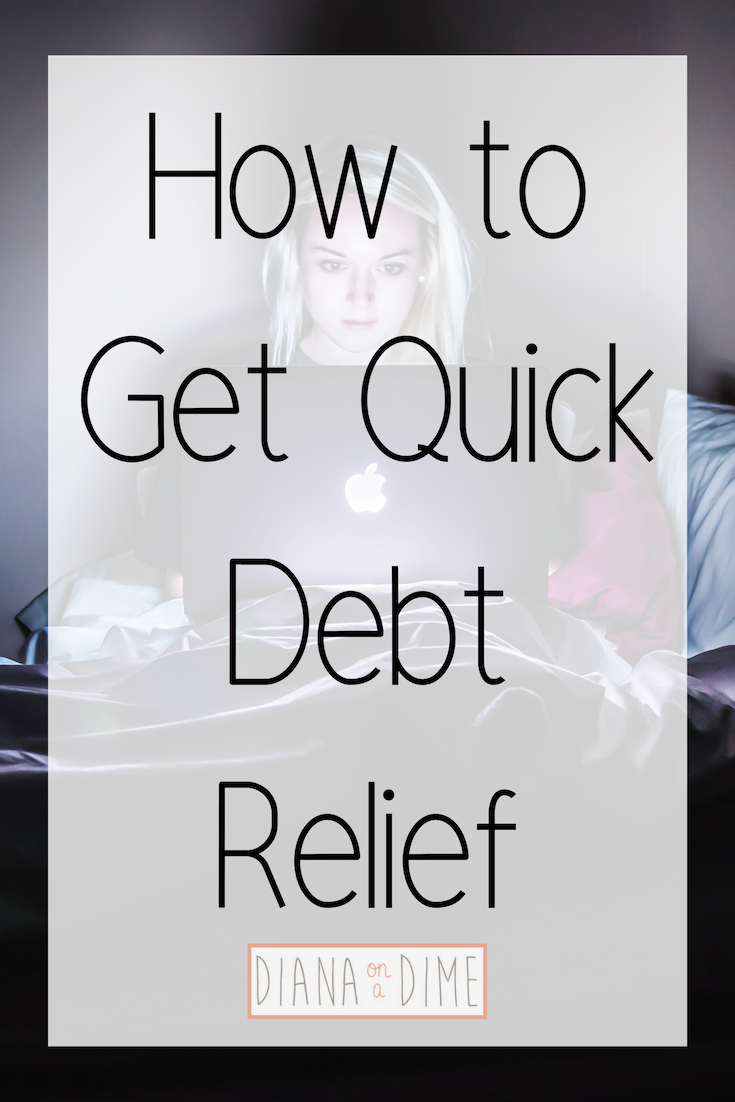 This post may contain affiliate links. Check out my Disclosure Policy for more information.
It took time to get into debt, so of course it's going to take time to get out of debt. But, there are things you can do to experience quick wins to get you some debt relief. When you are feeling completely overwhelmed by your debt, sometimes you just need to free up a little cash flow to feel better.
I know when I hit my financial breaking point, I was totally overwhelmed. When my student loans went into repayment, I'd have a monthly payment of $2,000. And that was just the minimum, on a teacher's salary.
To say I needed some debt relief was an understatement. I remember being in grad school and having no idea how I was going to afford everything.
That's when I started getting into personal finance. I started looking at my situation differently. I stopped thinking about how much debt I had. The only thing I thought of was how to get my cost of living down and paying down my debt.
You need to stop thinking about what you can't do in your situation. What can you do right now to help get you some debt relief.
And I'm not saying you should do any shady things. I'm saying look at your situation and start getting creative to get some quick debt relief.
1. Call every monthly bill you have and try to get a lower payment.
I'm not saying your monthly debt bills, I'm talking about other bills that you can negotiate. Most of the time, if you say you are going to switch providers, your internet and cable will lower. Worst case that happens is they say no. Then, you start shopping for other providers.
If you do this with a few of your monthly payments, the money saved will add up. This won't help with your debt relief, but it will help with your cash flow. The money you save will go to adding more to your smallest debt to pay it off.
By spending some time shopping around for different options, you'll be surprised how much you can save. A lot of the time we get loyal with the company that we originally did service with. The problem with this is that there are constantly new companies starting for all services.
This is fine, but when you're struggling with your debt, it isn't helping you. Shop around and see if you can get a better price. Lowering multiple monthly bills will free up money to go to debt.
2. Cancel any subscription you don't use for some debt relief.
Cut out any subscription or monthly bill that you don't use. After a while, we get complacent spending money on subscriptions we don't even need. Get rid of them. It's not helping your situation.
If there is a subscription you like, see if you can get something similar for a lower price. Or, cancel it for now until you pay off some of your debt.
Whatever money you save by not having these subscriptions, throw it at your smallest debt amount.
3. Sell big ticket items around your house.
Just like how we get with our subscriptions and monthly bills, we tend to hoard things in our houses. Anything that you can part with that will earn you some money, sell it! You'd be surprised by how much stuff you have in your house that can be sold.
I suggest looking at furniture items that you don't use or can see your house without. Personally, I like using Facebook Marketplace to sell my furniture that I don't need anymore. It's easy and immediate cash for your items.
Whatever money you get from selling things, put it towards your smallest debt. Are you seeing a pattern here?
4. Lower your housing costs.
This was the true game changer for me. If I didn't move back home to my parent's house, I would never have been able to pay any debt off. This brought my housing cost down to zero. When I felt like I was drowning with my payments, this saved me.
You don't need to move back home, but think about how much money is going towards housing. How can you lower that expense. Can you get a roommate? Move to a lower cost of living area? Downsize?
There are so many ways to lower your housing expenses. It just depends on what you're willing to do. I see so many people spending SO much money on housing. And are drowning in debt.
To me, thats a no brainer. It's such an easy way to free up some cash flow. Downsize to a smaller living arrangement and put all the freed up cash towards your smallest debt.
5. If you have a large car payment, sell the car for debt relief.
I know, you're probably thinking that you need a car! I get that, I need my car too. There is no public transportation for me to use. I'm not saying get rid of your car, unless you truly don't need it.
I actually babysat for a family that moved so that they could be walking distance to work. This allowed them to drop to a single car family. It was awesome and serious goals.
Back to where I was going with this. Sell your car and get a car with a lower car payment. If you have savings, use the savings to buy the car outright. Not all of your savings obviously, but take what you're comfortable with. Make sure to keep at least 1 month of expenses in there.
If you're someone that bought a new car with nothing down, chances are your payment is very high and on very long terms. Get rid of it! If you're drowning in debt and feel helpless, there is no reason to have that car. And I'm not saying get a car that isn't safe. I'm saying get a used, reliable car, with a low car payment, if needed.
By doing this, you will lower your monthly expenses. The freed up cash will go towards your lowest debt amount.
It's all about what you're willing to do.
The only way you are going to experience some debt relief is to make changes. You got into debt living this kind of life, you can't continue it and get out of debt. What it all comes down to is what you're willing to do to get some relief.
A lot of people aren't willing to do the hard work and change their life. These changes that I mentioned can help you within a month. Others will take longer, but will see bigger changes. For example, moving might take longer to do, but you will experience a huge change with doing so.
This is a lot to do on your own, but you can do it. If you need more accountability, check out my 1:1 coaching that I offer. It's for you if you know that your debt is overwhelming you and need to make a change. What have you done to experience quick debt relief? 
Tags In
Diana Farmen
I'm Diana, a 20-something teacher with a passion to help millenials reach their financial goals by saving money, making money, paying off debt, and building wealth.