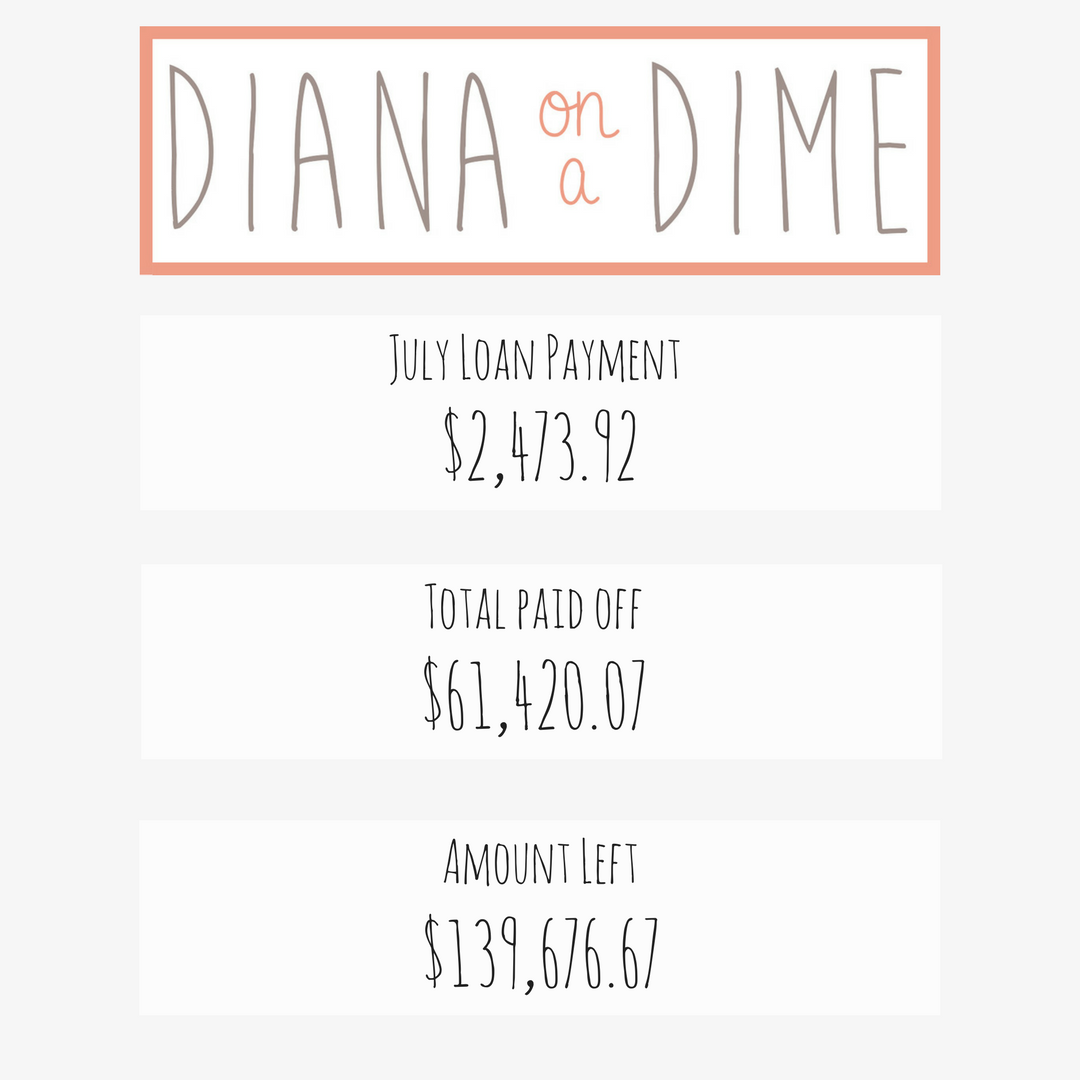 July Debt Payoff
I started my debt payoff journey in November 2015 officially. That's when my student loans officially went into repayment and I started throwing all of my money at my debt in order to pay it off as soon as possible. Since then, I've made many changes in order to increase my payments every month. When I first made my plan, my debt payoff date was just before my 31st birthday. My goal is to get that date closer and closer every month by improving my budget and increasing my income. I'm going to share with you all a breakdown of my loan payments and how I increase my monthly payment. I'm also hoping that by sharing with you all my goals, it will hold me more accountable to work towards them.
 
Income
The summer is tough for teachers, I don't receive my normal paycheck in the summer, I'm on a 10 month salary. That means my income is strictly from my side hustles. However, I do save $300 every month during the school year, so I can afford my debt payoff on a 10 month salary. Here's a breakdown of where my money came from this month.
Fitness Coaching: $100.00
Tutoring/Babysitting: $1,129.76
Summer School: $506.83
Ibotta: $30.50
School Year Savings: $1,500.00
Total: $3,267.09
Expenses
I save a lot in my expenses by living at home. I don't have rent or utilities to pay each month, which saves me a ton of money and allows me to put a lot more towards my debt. My expenses here do not include my loan payments or my investment accounts. In July my expenses were $693, which includes my groceries and gas.
Loan Payments, Savings, & Investment Accounts
It might come as a surprise, but I actually contribute money every month to my savings and investment accounts. I know this is not typical for most people on their debt free journeys, but for me, while I am living at home, I am contributing $100 each month to my high yield savings account and investment accounts.
My current debt payoff date is September 2021, I'll be 29 years old. I have been able to make significantly greater payments then I originally thought I could thanks to my side hustles. In order for this date to stay the same, I need to at least pay $3,166.71. My loan payment for the month of July was $2,473.92. This means I came in short this month, but considering I was working strictly from side hustles, I'm pretty proud of this number. This just encourages me to work even harder come September when I'll have my salary back.
Tags In
Diana Farmen
I'm Diana, a 20-something teacher with a passion to help millenials reach their financial goals by saving money, making money, paying off debt, and building wealth.