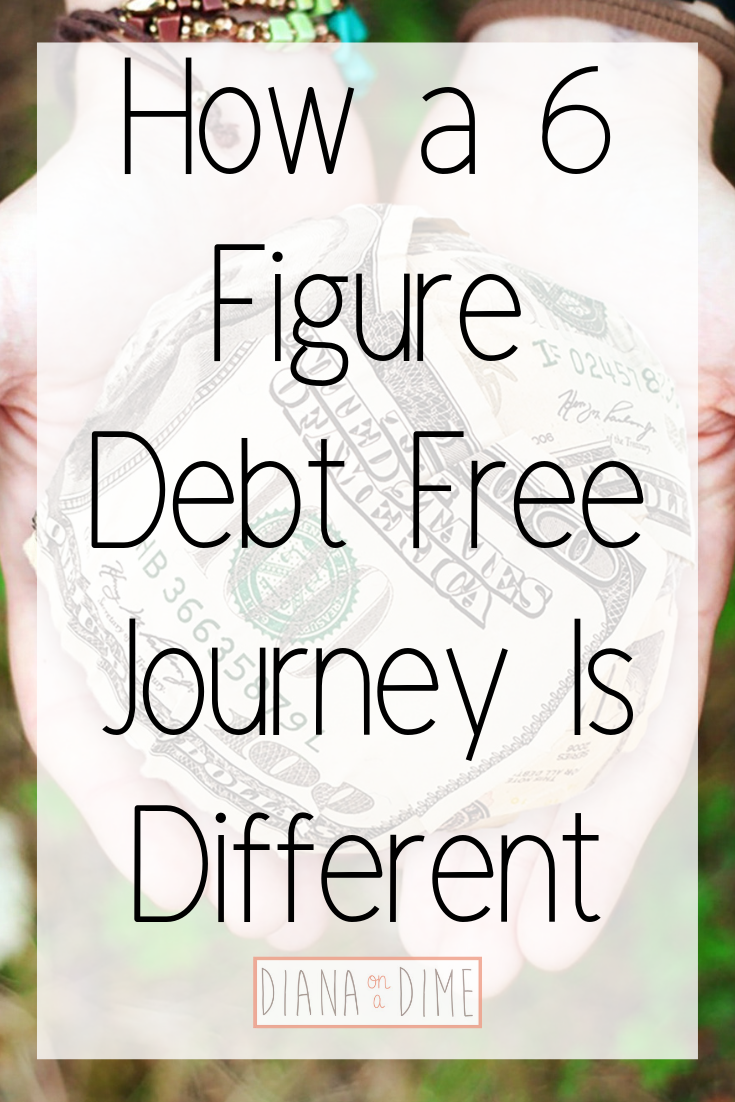 How a 6 Figure Debt Free Journey Is Different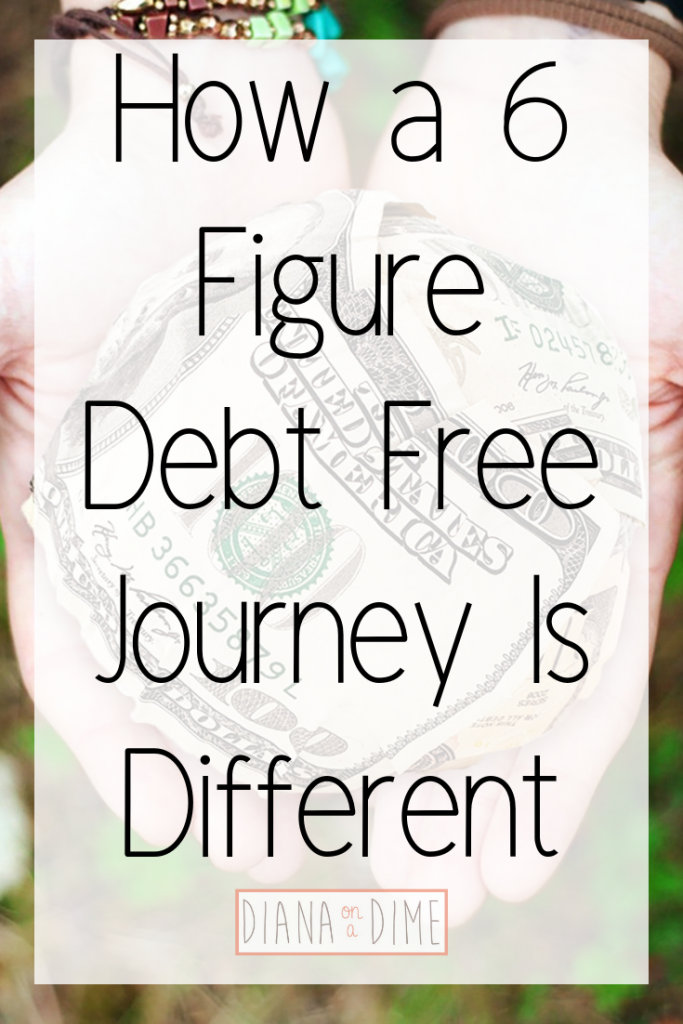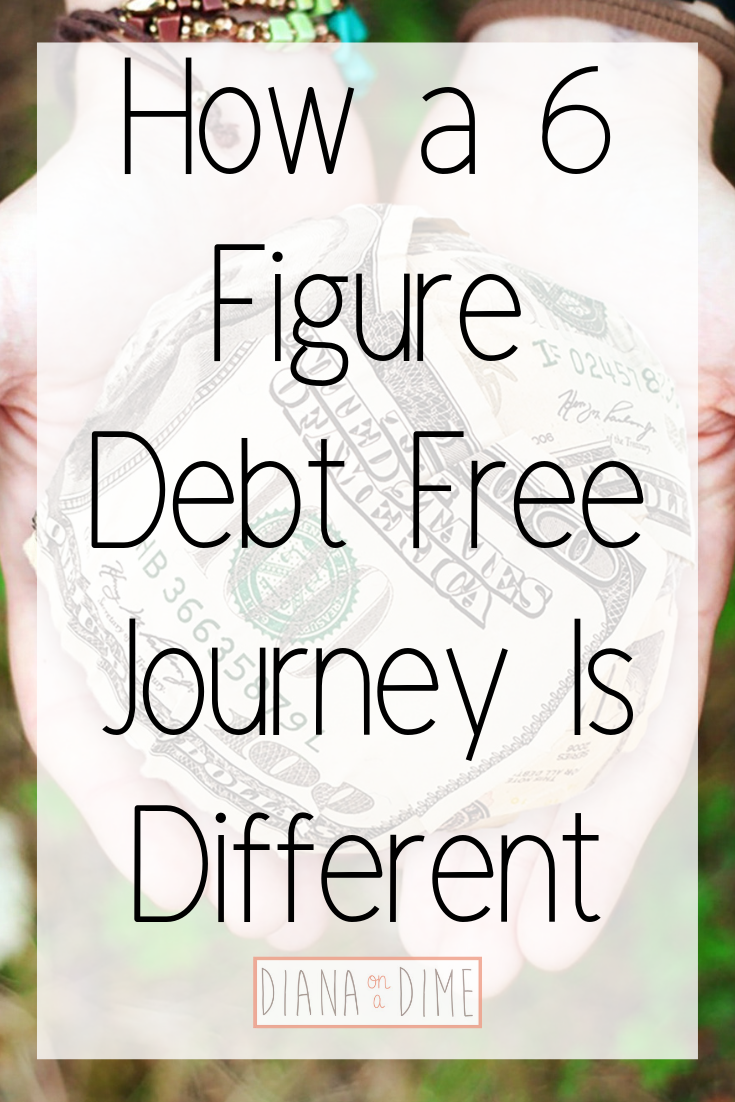 This post may contain affiliate links. Check out my Disclosure Policy for more information.
I say it a lot, 6 figure debt is no joke. And I'm not including a mortgage when I say this. I'm talking about 6 figures of non-mortgage debt.
This would be debt like credit cards, personal loans, car loans, student loans, etc. Basically I'm referring to anything that is debt, that isn't a mortgage.
There are a lot of people in this boat. Don't think that you're alone.
I was there with $201k in student loans to become a teacher, which wasn't the brightest idea. But, after just under 4 years, I have paid off $134k. I still have more to pay off, but the ridiculous burden is much less now.
Because I have experienced 6 figure debt, I know that it is much different than other debt free journeys.
From the start, you have to accept the fact that your journey will be different than most people because a lot of people don't have 6 figure debt.
It also is going to be very different if this is your own debt, or if it is you and your partner's debt. That makes a huge difference. For me, it was just myself that had all this debt and it was just me to pay it all off.
This is how a 6 figure debt free journey is different than others and what to consider if you are paying off 6 figures of debt.
1. The amount of time you will be on your debt free journey.
Let's be realistic. We all would love to pay off our debt in 12 months. But, with 6 figures of debt, especially if you're single, is going to take a longer time to pay off.
Don't let this get you down. Never compare your journey to someone else's, only use it for new ideas, motivation, or suggestions.
Paying off 6 figures of debt is going to take some serious time, but don't let that get you down. Use it to motivate yourself to get creative and find ways to shorten your journey.
When I first started, my projected journey was going to be 8 years. I've paid off $134k in under 4 years. You can bet that this journey will not take me 8 years anymore.
I used undebt.it to figure out and track my debt free date. This is a great way to keep your motivation up throughout your journey.
2. The amount you send to debt each month will be much higher.
When you have 6 figures of debt, your minimums are naturally going to be high. That's just how the math works. All over the #debtfreecommunity on Instagram is people sharing their monthly debt payoff. Myself included.
When I first started my journey, my minimums were roughly $2,000 every month. If I posted my monthly payment of $2,015 it looked like I sent a ton to debt, but I wasn't making much progress.
My shovel was so small in the beginning because my minimums were so large. I was making these massive payments, but only a very small amount was higher than my minimum.
This meant that my journey didn't get much shorter in the beginning.
Don't get discouraged by this part in the beginning. Have faith in the process and keep working the plan.
3. You're going to need to find more streams of income.
When you have 6 figures of debt, you're going to need to increase your income to see progress. You can only cut so many expenses from your budget, but your income is infinite.
That's how I made such large progress in my debt free journey. I moved to a high cost of living area, which gave me a higher teaching salary.
This also allowed me to make a lot more in my side jobs, I have 5 consistent streams of income. You can get a copy of my multiple income stream tracker here.
And I'm not saying you're going to need to work your life away. But, find other sources of income and put it towards your debt.
This can be as easy as negotiating a raise at your current job, or working OT, if it's offered.
4. To see a major payoff, you're going to need to make major changes.
Like I said in number 3, with 6 figure debt you just need to do some things differently. In order to see major payoff, you're going to need to make some major life style changes.
I mentioned moving to a higher cost of living area to have a higher salary. You probably thought, higher cost of living means higher everything else too, right?
You're totally right, but not when you get creative about housing.
For me, I was making $3,000 a month with a minimum payment of $2,000. I moved to the area because it guaranteed me a salary that could at least support my minimum payments.
Most parts of the US, I wouldn't have made enough as a teacher to even cover my minimums. So, I moved to a higher cost of living area and moved back into my parent's house.
I told them my plan and explained to them that I would be putting every single extra penny I had to my debt. They allowed me to live rent free for almost 4 years and this is by far one of the biggest ways I was able to pay down my debt quickly.
This isn't an option for everyone, but think of ways to hack your housing costs. Find a cheaper apartment, get a roommate, or use AirBNB to rent your space.
The key is to not compare your journey to someone else's journey.
It can be really hard not to compare your journey to another's. But, when you have 6 figures of debt, your journey will most likely look a lot different than most.
You're not going to be super intense for 5 years. That would be absolutely insane. Maybe you can do months like that, but it's not realistic to do multiple years.
Keep working on your plan and your goals. You're going to get there, it's just going to take a bit longer. Do you have 6 figures of debt, how has your journey been different than a typical debt free journey?
Tags In
Diana Farmen
I'm Diana, a 20-something teacher with a passion to help millenials reach their financial goals by saving money, making money, paying off debt, and building wealth.