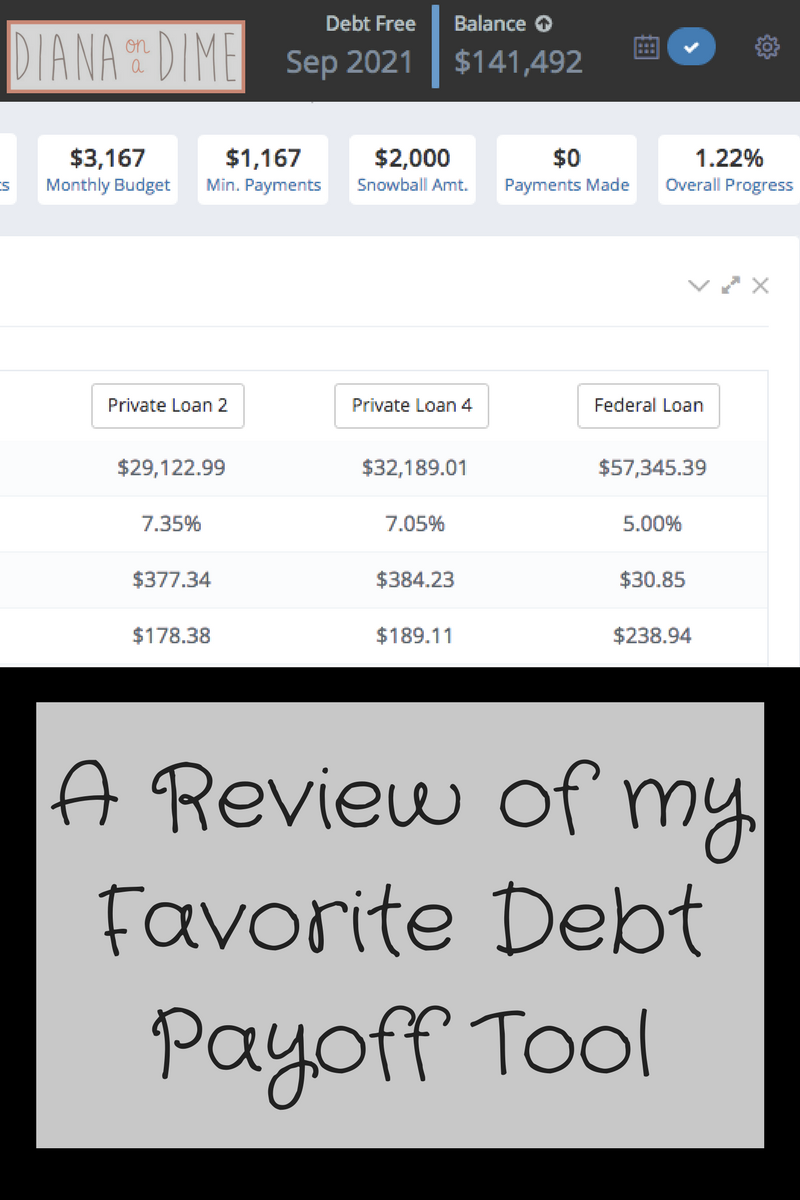 A Review of my Favorite Debt Payoff Tool
This post may contain affiliate links. Check out my Disclosure Policy for more information.

Back in November of 2016 my debt payoff world came crashing down around me. My favorite debt payoff tool, ReadyForZero, was no longer going to be offering their tool. This tool had the works, everything I could have asked for, and it was free! I've spent months trying out new tools and just couldn't find one quite like ReadyForZero and felt as though I was settling with the one I was using. Then, I stumbled upon undebt.it and my debt payoff once again feels organized and is motivating me once again. Here's a review of my favorite debt payoff tool!

Many Different Options
One thing I really like about undebt.it is that there are different options of plans based on what you want from the tool. There is a free version that allows you to input all of your debt information, a customized payoff plan based on what strategy you want to use, and keep track of your payments on your accounts. The tool updates your totals for you once you add payments and allows you to see how much debt you have paid off and when you will be debt free, my favorite part!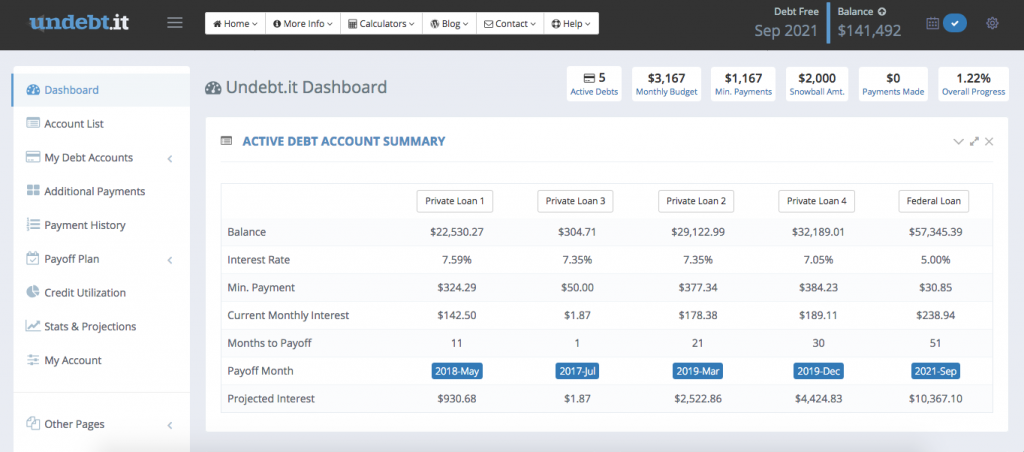 They also offer undebt.it+, which costs $12/year and gives you access to everything that the free account gave you, and then so much more. With the plus account you are able to manage bills, get payment reminders via text message or email, an account summary emailed to you monthly, projections and stats to represent your debt payoff, and so much more!
Motivation
This tool is incredibly motivating and makes it so easy for someone new to debt payoff. Once you input all of your accounts they create different plans for you and you get to pick which one is best for you and your situation. I personally use debt avalanche because I have such high interest rates and large loans.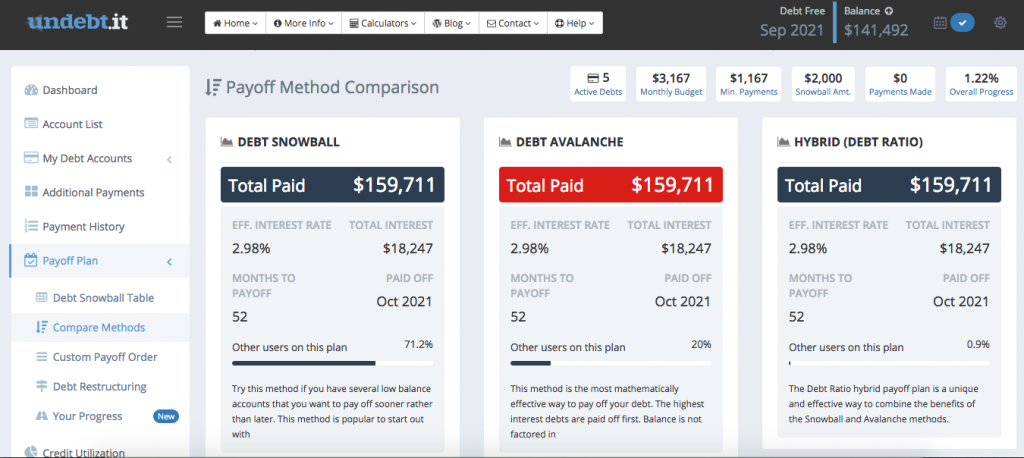 They keep on every page you go to in the top right corner your current progress on your debt payoff. I LOVE this feature. I find it so motivating to see if the debt payoff day changes when I make extra payments and see the percentage paid off get larger.
Payoff Plan
Once you have picked your plan, they create a debt snowball table specific to your plan. I love this feature because it tells you exactly what to pay on each of your loans to stick to your plan. For someone who is new to debt payoff and not totally sure how to navigate it, this would be so helpful! I also love that your payments that you already made for the current month are in blue so you know exactly where you stand in the plan.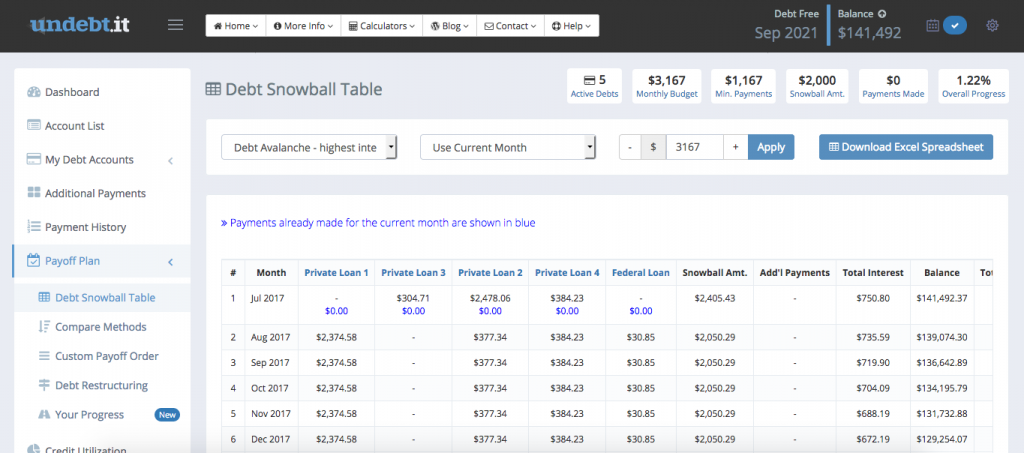 I really love this tool and I am so happy I found it finally. What I really love about it is that the creator of this tool was just paying off his own debt and needed a tool to use and he wasn't happy with any of them out there. I love that he took initiative to help himself and so many others pay off their debt. I personally really like this tool and found it very helpful immediately after I set up my account. I highly recommend this tool, especially for people who are just starting their debt payoff journey and could use a tool to help them get started. One downside of the tool is that they don't have an app for your cell phone. The website does load nicely on my iPhone, but no app is currently available. What tool(s) do you use to manage your debt payoff plan?
Tags In
Diana Farmen
I'm Diana, a 20-something teacher with a passion to help millenials reach their financial goals by saving money, making money, paying off debt, and building wealth.