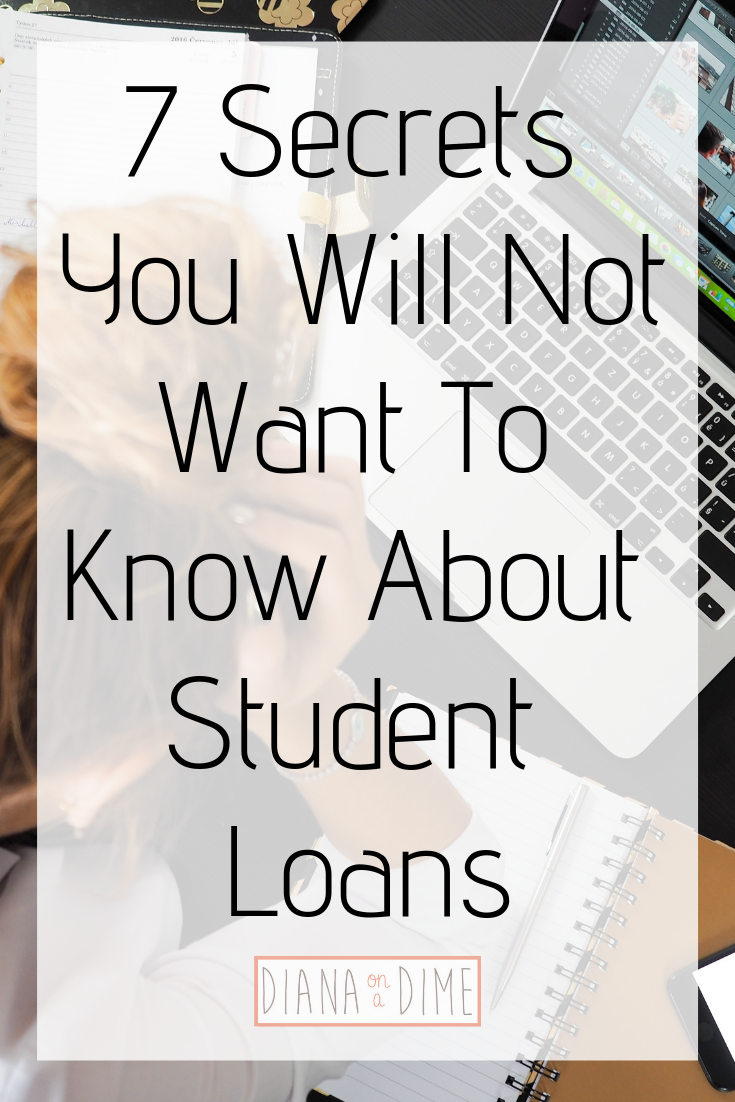 7 Secrets You Will Not Want To Know About Student Loans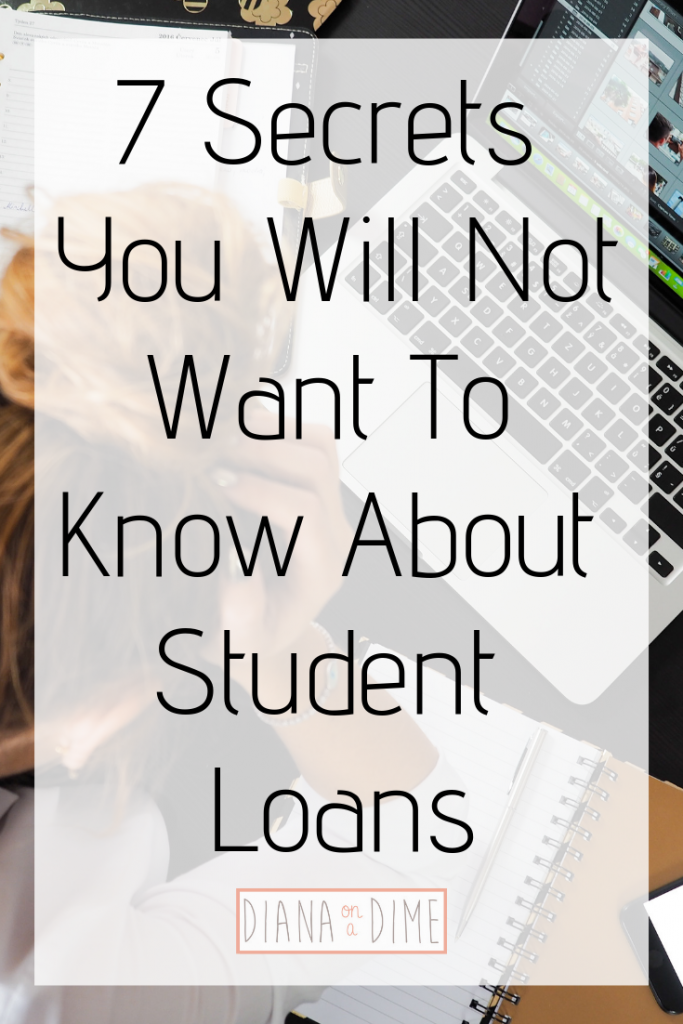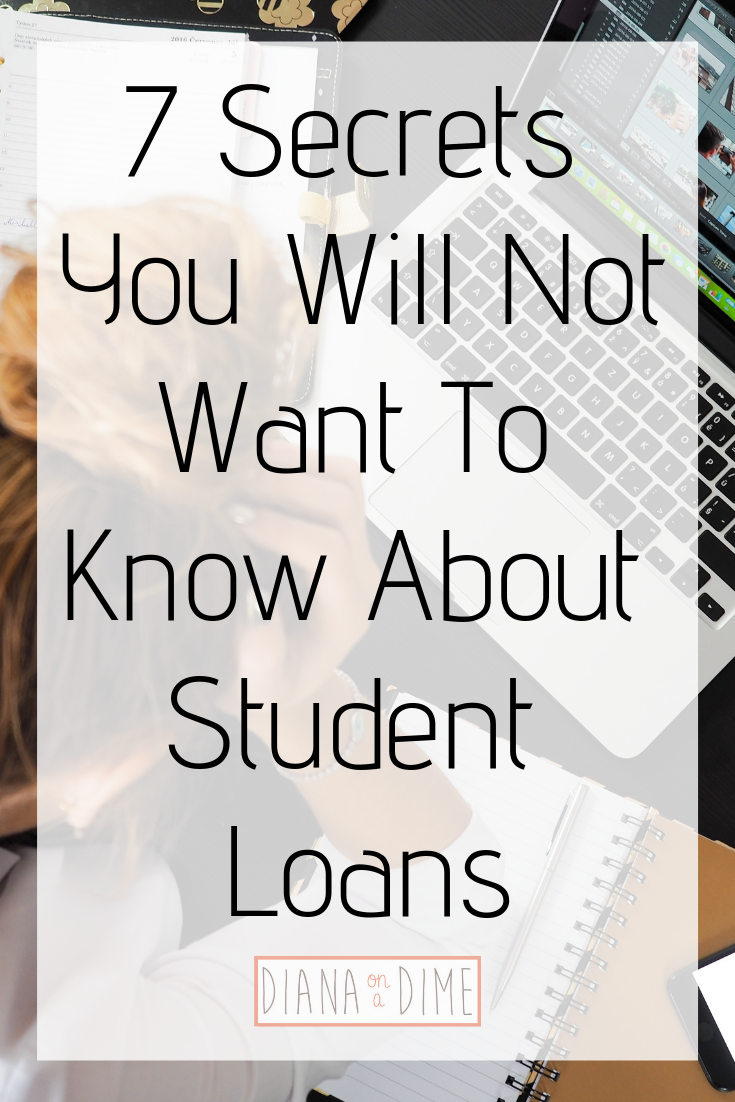 This post may contain affiliate links. Check out my Disclosure Policy for more information.
Every since I wrote my post about blind student loan payments, I have been getting a ton of questions about student loans. It is crazy to me that student loan providers are allowed to do the things that they do. It's absolutely terrible, which is why I think student loans are probably one of the worst debts.
There are so many things people don't know about student loans, but they let 18 year olds sign their lives away to them. It's insane! And I was one of them that unknowingly did it! But, I want that to change, I want every person that gets a student loan to know the reality of them.
They can be a tool to use to better your future, but they need to be taken out with education about what these debts really are. Student loans are unlike any other kind of loan, which can ruin people's financial future.
Related posts:
4 Steps to Decide If Refinancing Your Student Loans Is For You
How Student Loans Impacted My Credit
A Honest Review: Round Up To Zero
How to Pay Off Debt on a Low Income
1. Minimum payments on student loans don't need to cover all of the interest.
This is what separates student loans from most other loans. Most loans, you are at least covering the interest that accrues throughout the month. Student loans are completely different. You can be making your minimum payment, but not paying off your interest every month. This will cause your loan to grow and grow and you will never pay it off.
This is why you need to stop making blind student loan payments and check to see if you are paying off at least your interest every month. If you aren't, you need to make a change in order to ever pay off your student loans.
2. Your student loan interest deduction on your taxes is making you lose money.
We all get wrapped up in tax deductions and sometimes it does financially make sense to make certain money moves that allow you another deduction. But, being able to deduct your student loan interest every year is not helping your financial picture.
I have heard so many people tell me they aren't rushing to pay their student loans off because they get a tax deduction. You get to claim $2,500 every year, but add up how much you lose every single month to your student loans. Think about how much you'd be saving in a year if you just paid them off. I know for myself, I'd be saving about $40k, way more than the $2,500 I get to deduct.
3. Your family will still be responsible for your student loans if something happens to you.
There are some programs in place for federal loans and some private loans as well, but most student loans are not forgiven in the event that the borrower passes. The crazy part about this is that with most other debt, there is a tangible item attached to the debt. For example, if you have a car loan, your family can sell the car to help with the debt associated with it, similar to a house and a mortgage. With student loans, your education will not help pay for that cost if you pass.
This is important to keep in mind, especially if your parents or other family member cosigned your student loans.
4. Your wages can be garnished, if you're delinquent on your student loans.
This is a vicious cycle. You can't afford your monthly payment on your student loans, your wages are then garnished. If a recent graduate has an entry level job and can't afford their monthly payment, it will be hard to get ahead when their wages are garnished. This is super important to keep in mind if you're struggling to make your payments each month.
If you are delinquent, they can also garnish any social security benefits, disability benefits, or federal refund checks.
5. In some states, you can lose your driver's license for not paying your student loans.
This is different in every state, but it's something to keep in mind. This is yet another vicious cycle. If you lose your driver's license, it then may be hard for you to get to work, if you live in an area that doesn't have public transport.
6. In some states, you can have your professional license suspended for not paying your student loans.
This would prevent you from working in the field that you took the student loan out for. Which would prevent you from making a payment on your student loans potentially. This would prevent you from turning things around and getting back on track to paying your student loans.
7. You can be sued for not paying your student loans.
In the event that you are not paying your student loans, you can be sued by the company. This happens much more frequently with private student loans because they don't have programs in place to help borrowers afford their monthly payment. However, they also don't have programs that can grow your student loans, like I mentioned in number 1.
I encourage all of you to get educated about your student loans. Ask questions, do research, know what your student loans mean. If you haven't taken any out yet, but are thinking about it, understand the reality of them and consider alternate plans. If you're struggling to make your payments, get on a budget and get on a better financial path, so you don't have to deal with any of what I mentioned above. How have you helped yourself to learn more about student loans?
Tags In
Diana Farmen
I'm Diana, a 20-something teacher with a passion to help millenials reach their financial goals by saving money, making money, paying off debt, and building wealth.